By Act of Parliament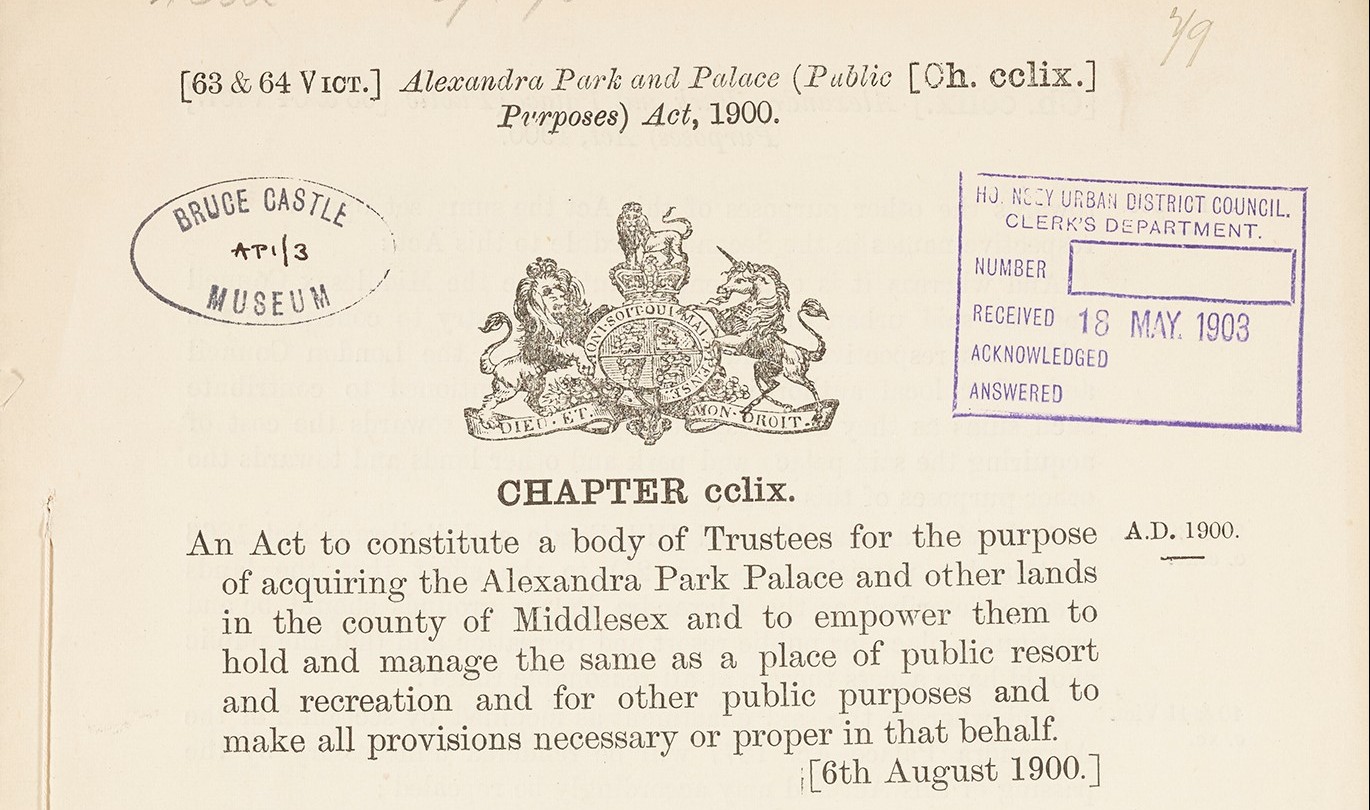 The Act of Parliament that established the charitable trust
The Great Fête is a celebration of Alexandra Palace and the role it played in the lives of people since it was established. A home for entertainment and education for people from all walks of life, Alexandra Palace has played a crucial role in the development and increasing access to leisure and recreation – its importance cemented by a 1900 Act of Parliament.
Alexandra Palace was born out of the industrial revolution, as mechanised factories drew former agricultural and pastoral workers to increasingly crammed cities. Living conditions were poor but out of the developments in technology came solutions. Railways offered an escape from the city and Paxton's success with the iron framed Great Exhibition building enabled public structures on a grand scale. Just as Crystal Palace relocated south, the International Exhibition of 1862 was relocated to the new Alexandra Park and a direct railway offered an affordable escape for the cross section of London's expanded population.
Victorian entrepreneurs saw an opportunity to provide wider access to leisure, recreation and education. In contrast to exclusive organisations Alexandra Park and Palace were conceived as "The Palace of the People". Although adhering to the strict class system it offered an opportunity to workers and visitors from all backgrounds to enjoy and share the eclectic programme of activities and events.
The "new" Alexandra Palace ahead of its re-opening
The Park was opened in 1863 with construction work on the Palace starting in 1865. The original Palace opened in 1873 but burnt down just 16 days later. With typical Victorian spirit, work quickly began on a new Palace, which opened in 1875.
The Park and Palace were incredibly popular during bank holidays and for special events but had mixed fortunes and a series of changes in ownership led its owners to sell it for development in 1900. A campaign led by local man Henry Burt allowed a consortium to raise the funds and preserve the Park and Palace for the people of London. With funds secured, it was placed in trust by an Act of Parliament. The Alexandra Park and Palace (Public Purposes) Act 1900 stated that the building and grounds should be "available for the free use and recreation of the public forever".
Much has changed in the world since then but Alexandra Park and Palace has remained the People's Palace. As leisure and entertainment developed, Alexandra Palace moved with the times and has remained central to the story of popular culture and British history – from those early Victorian ideals of recreation through to music hall, the advent of cinema, television and live spectacles like gigs and music festivals. Alexandra Palace only closed to the public during the First World War, when the Palace became a home to refugees then later an internee camp. Even a disastrous fire in 1980 did not stop a continued programme of activity and events.
Fatboy Slim performing at Alexandra Palace in 2018
Today the charity, Alexandra Park and Palace Charitable Trust remains responsible for its repair, maintenance and restoration and also provides a year-round programme of entertainment, culture and leisure activities.
The Park and Palace now welcomes millions of visitors each year and works with communities across Haringey and beyond through its Creative Learning programme. Continuing our legacy of embracing the latest innovation we are exploring new technology like virtual and augmented reality and developing partnerships with leading organisations such as Google and Lincoln Conservation, to find new ways to share our fascinating stories and explore how we can remain as relevant and welcoming to audiences today and in the future.